Aims & Objectives
To establish madarsa, schools and vocational institutes as a high quality education provider with primary focus on Islamic learning and imbibing modern abilities to poor muslim students.
"Madarsa is an institution of learning, where Islamic sciences including literary and philosophical ones are taught".
Avowed aim of madarsa education is to inculcate the belief and practice of Islam among believers and guide them to follow the Qur'an and traditions of the Prophet S.A.W. Madarsa education, which is basically for propagation of Islam, remained an inspiration for modern Muslim educational institutions.
Vocational education and training, consisting basically of practical courses through which students gain skills and experience that directly linked to a career in future. It helps students to be skilled and in turn offers better employment opportunities. We aim in establishing a vocational training institute as well to build a better future for our pass outs.
Latest News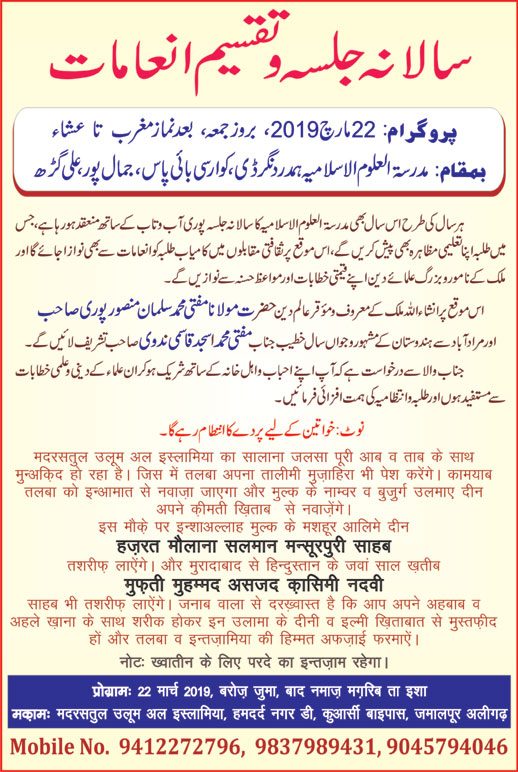 Ask Us Islamic Questions
Ask us a question regarding religious aspects and we will advice you in a short period of time.
Ask Us
What Great People Say About Us
"I have visited the foundation and found it worth appreciating. I felt that it should be helped, since it is fulfilling its duty towards upbringing new generation with Islamic culture by utilizing the funds provided by generous Muslims."
Mohammad Rabey Hasani Nadwi
"Allama Abul Hasan Ali Nadwi educational and welfare foundation situated at Aligarh was established by Dr. Ghayas Siddiqui, a few years ago along with some well-wishers of Islam, under the supervision of Sheik Allama Mohammad Rabey Hasani Nadwi. During this period, the organization has been able to establish four academic schools from nursery to primary and five Islamic madrasas, amongst which Madrasatul-Uloom Al-Islamia is top ranked in all aspects."
"…. I have visited the above mentioned Madarsa and other schools of this organization and consider it as the best centre for education, reformation and guidance."
Dr. Saeed-ur-Rahman Azmi Nadwi
"Madrasatul-Uloom Al-Islamia situted in Jamalpur, Aligarh is a local Islamic madarsa. It was established under the supervision of Allama Abul Hasan Ali Nadwi educational and welfare foundation to educate upcoming Muslim generation. This organization is run by one of those who have true Islamic faith and that is Dr. Ghayas Siddiqui, whom I trust personally."
Salman Hussaini Al-Nadwi
Allama Abul Hasan Ali Nadwi educational and welfare foundation is purely a religious, educational and reformal organization with various religious madrasas, elementary and primary schools running under its management. Among those Madarsatul Uloom Al Islamia, a widely renowned Madarsa has emerged itself as a flag mark of the foundation. The foundation pays high attention to modern education also. It has planned to establish a vocational technical training institute for the pass outs or dropouts of madarsas, schools and colleges to provide them better employment opportunities. Already foundation has arranged 5 beegha land to establish a vocational institute near Madarsat-ul-Uloom Al-Islamia and is working hard to get another 3 beegha nearby. The construction of such an institute will cost around 2 crore. I call upon my muslim brothers, leaders and well wishers of Islam to come forward and help the foundation to achieve their goals for the upliftment of society.
Naseem Ahmad (IAS)